Decontamination

www.drslaboratories.com


610-433-1533
610-433-1522(fax)
[email protected]

DRS Laboratories, Inc.
P.O. Box 20247, Lehigh Valley, PA 18002
OEM of CD decontamination equipment. Our MCS is the first to be EPA registered specifically for BSCs. The MCS is the front-runner for all BSC, and space volumes up to 3,000 cf. Leader of all types of decontamination services, utilizing the most cost-effective methodology (ClO2, PAA, H2O2) required at your facility.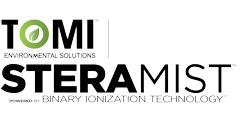 www.tomimist.com


800-525-1698
301-468-6744(fax)
[email protected]

SteraMist by TOMI
8430 Spires Way, Suite N, Frederick, MD 21701
TOMI™, represented by SteraMist™ brand, is a global decontamination company providing solutions through manufacturing, sales and licensing of Binary Ionization Technology® (BIT™). BIT™ is EPA registered and uses 7.8% Hydrogen Peroxide as its only active ingredient to produce a fog composed of hydroxyl radicals, known as ionized Hydrogen Peroxide, iHP™.
---
www.pbsc.co.uk


4401484354500
4401484354504(fax)
[email protected]

PBSC, Ltd.
Bradley Junction Industrial Estate, Leeds Road, Huddersfield, West Yorkshire, HD2 1UR United Kingdom
PBSC offer High-Containment equipment, meeting requirements for BSL-3 and BSL-4 applications. Including: APR Doors and Windows, Pass Through Hatches, Dunk Tanks and Material Decontamination Chambers.